Commercial Laundry Programs, Products, and Equipment
With all the laundry products on the market, it can be confusing to know which ones are right for you. Allied Cleaning Solutions offers various products in the P&G Professional's Laundry line that can help deliver the cleanliness, softness, and whiteness you and your customers expect and demand. Tide®—one of P&G's laundry products—has a neutral pH level and phosphate-free formula that makes it a smart choice for the discerning customer.
We offer state-of-the-art OPL systems by Procter & Gamble. These systems feature several P&G products including Tide®, Downy®, and Clorox® which are designed to leave linens clean, soft, and white.
P&G—one of our strategic partners—developed Tide® with a phosphate-free formula and neutral pH levels. As a result, using Tide® can keep linens free from encrustation.
A technician will visit your facility monthly to check your machines and equipment. He can then make adjustments or repairs necessary in order to maintain a consistent, low-cost program for your laundry department.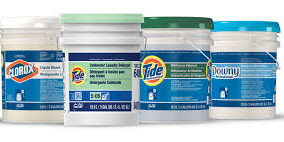 We deliver P&G's big name brands in small packages to your place of business, so your customers can leave with clean linens and big smiles. By packaging them in the perfect sizes for the coin vending industry, you can now stock your vending machines with the line of products your customer wants.
At Allied Cleaning Solutions, we understand the importance of having the right equipment and products for your laundry operation. When doing business with us, you can breathe easy knowing that we carry products by trusted manufacturers such as P&G. Contact us to learn more.